Our quality pyramid – new as of 2019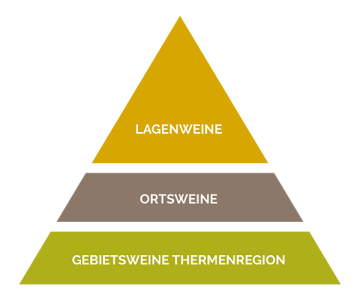 In order to give our customers and the specialty wine press better insight into our wine philosophy, we are introducing our new origin system at ALPHART AM MÜHLBACH in 2019. The principle is internationally recognized. As there is currently no DAC classification for the THERMENREGION, we want to convey a contemporary structure of origins for our range.
Single-site & Reserve wine
As of 2019, origin is the most important thing in our house. At the top are our Rotgipflers from the Mandelhöh and Pressweingarten vineyards, followed by the Zierfandler vineyard Otzler, Chardonnay vineyard Ruffenbrunn and Riesling vineyard Zistl. The authenticity of the sites, and minerality and finesse are in the foreground. Longer ripening on the vines gives distinct flavours and good acidity at the same time.
Until recently, the "reserves" were regarded as the premium product of our winery, but today we place them more as a speciality alongside the single-site wines. Especially our Chardonnay and Rotgipfler reserves are characterized by their typical fruit, some wood and complexity.
Ortswein / new as of 2019
Our village wines originate from good, traditional vineyards that are planted with grape varieties typical of their region. Our aim is also to revive old and very typical names like "Gumpoldskirchner Zierfander" or "Pfaffstättner Rotgipfler". Wines with a lot of individuality and terroir. Our first "Ortsweine" (2018 vintage) will be available by April 2019.
Gebietswein Thermenregion
These are regional quality wines, which originate from our holdings within the region. They provide a perfect introduction to our origin system and show the great range of regionally-typical varieties. Entry-level wines – light & fresh with vibrant fruit and animating acidity.